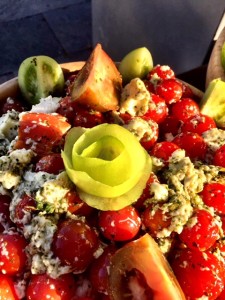 Hog Roast Buckinghamshire is a team of seasoned professionals who have spent many years perfecting the art of the hog and spit roast while also providing plenty of variety for customers. Using fresh, top quality ingredients to make homemade food is at the heart of what we do, and we do so with excellent service and commitment and dedication to our customers' needs. Our vast experience and knowledge means we are well-equipped to easily cater both large-scale and intimate affairs, from big wedding receptions and huge corporate events to a small meal with family members in your back garden. Whatever you have in mind, Hog Roast Buckinghamshire is a great choice, and we can ensure that the catering at your party or event is a resounding success, while you get to de-stress, sit back and enjoy our delicious food together with all of your guests.
Your Party, Your Food, Your Choice
Hog Roast Buckinghamshire has always made certain that all of our customers and their guests can enjoy our food, by providing plenty of choice. While we're famous for our hog roasts, you may prefer a spit-roasted turkey, chicken, spring lamb or joint of beef for your function, or even a different meat. Whether we're catering a formal or informal event, with either a large number of guests or just a handful, you could be enjoying our pigs in buns, a barbecue with our 100% beef burgers and gourmet sausages or our Southern Slow Roast Menu which gives you various meats and side dishes. We can also cater for various diets, so vegetarians, vegans and gluten-free guests, for example, can enjoy our fantastic food too. Whatever your needs, we can do you proud.
The Best Hog Roasts In Buckinghamshire
Hog Roast Buckinghamshire is a great option of caterer if you're looking for variety, but at the end of the day, we make the best hog roasts in town and we're proud to do so. We source the meat locally from trusted suppliers of farmers and butchers, lovingly prepare it on-site at your chosen venue and then watch over as it sizzles away for hours and hours. While it's cooking, the aromas will make your mouth water; while we're carving away, your taste buds will be tingling; and then once you try it, you'll know what all the fuss is about. Try one today – you won't regret it!